Ah, summertime. Do you remember warm nights as a kid, spending hours in the yard after dark catching fireflies, looking at the stars, or watching fireworks? Do you remember what it felt like to step back inside again: the shock of the tungsten light and how you would blink your eyes and all of your other senses would struggle to readjust to the feeling—the safety—of being "home" again?
As a metaphor, there is no better way to describe what it is like to walk into Best Video, especially in today's media environment: We are a haven, an oasis, civilization, home… if you are thinking "I must be in heaven," you must be in Best Video!
So, with the theme of summertime in mind, and movies on my mind (as if they ever aren't!), I move on to this week's recommendation entitled…
DOUBLE YOUR PLEASURE: THE FINE ART OF THE DOUBLE FEATURE
During the summer that I turned 21 I was living in New York City when, on a sweltering afternoon, I went to Lincoln Center to see back-to-back movies: John Carpenter's taut, low-budget exercise in claustrophobic atmosphere and action ASSAULT ON PRECINCT 13 (1976) and David Cronenberg's masterfully sick, McLuhan-esque body horror nightmare VIDEODROME (1983). After being cloistered in the air-conditioned darkness all day—my senses assaulted by Carpenter's and Cronenberg's twin nihilistic visions—I virtually staggered out of the theater into the sunlight and heat.
I had seen double features before and I have seen them since but that one sticks out in my mind, partly because the films were new to me but also because I admire the unknown genius who thought to pair them up. It took a leap of faith to connect the two and it is in that stretch of the imagination that a good double feature can deliver so much satisfaction, beyond even what movies individually will provide.
No other medium lends itself as well to doubling and the number "2." For example, film history is filled with genres that explore the idea of couples and marriage—melodrama, romantic comedy, screwball comedy—while others explicitly examine the duality of human nature—horror, film noir, and crime. Some movies, like Hitchcock's SHADOW OF A DOUBT or Lynch's MULHOLLAND DRIVE, even foreground this theme of duality and the ambiguity of identity, making it the film's primary focus. But most important, of course is the fact that movie promoters early on learned to package feature films in pairs: the aptly named "double feature."
At Best Video it is very natural to rent two movies at a time (Monday, Tuesday, and Wednesday are 2-for-1 for full-benefits members, after all) and I love to observe how people pair them up: sometimes there is a theme (World War II, Cary Grant, Jean Arthur, New York, L.A., renowned Czech animator Jan Švankmajer, carnivorous fish, etc.) and sometimes the connections seem to be purely random, which is a kind of theme as well. Yes, the couplings that can be made between movies are infinite (think: Six Degrees of Kevin Bacon) and provide for endless reflection and fun. It is true that one is the loneliest number: after all, watching movies is so nice, why not do it twice?
Here are ten suggested double features: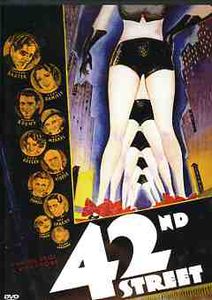 42ND STREET or FOOTLIGHT PARADE (both 1933)/THE BOY FRIEND (1971): Try pairing up a Busby Berkeley kaleidoscopic song-and-dance original with Ken Russell's acid-tinged tribute to the great "Buzz" himself, starring none other than Twiggy!
THE 7TH VOYAGE OF SINBAD (1958)/JASON AND THE ARGONAUTS (1963): What's better than a Ray Harryhausen double feature? One which features lots of sword-wielding skeletons, of course!
THE MANCHURIAN CANDIDATE (1962)/THE PARALLAX VIEW (1974): How about a little conspiracy and paranoia, American style?
HERE COMES MR. JORDAN (1941)/A MATTER OF LIFE AND DEATH (1946): During the dark years of World War II it is no surprise that films set in Heaven became commonplace. These are probably the two very best.
GLORIA (1980)/ALIENS (1986): A fun double bill of butt-kicking, feminist-tinged action flicks!
HIGH SIERRA (1941)/COLORADO TERRITORY (1949): The first is well-known as an important early gangster role for Humphrey Bogart, but director Raoul Walsh later re-made his own film as an excellent Western starring Joel McCrea.
LOVE ME TONIGHT/ONE HOUR WITH YOU (both 1932): Two sensational early, innovative Paramount musicals; the former is directed by Rouben Mamoulian, and the latter by Ernst Lubitsch. Each stars Jeanette MacDonald and Maurice Chevalier and each is set in Paris (via Hollywood, U.S.A.)!
BRIEF ENCOUNTER (1945)/THE APARTMENT (1960): Director Billy Wilder based his character C.C. Baxter's (Jack Lemmon) tendency to lend out his apartment to philanderers on a character who appears in a single scene of David Lean's classic weepie, about an English housewife and doctor (each happily married) who meet by accident, fall in love, and then decide to part.
SLAP SHOT (1977)/NORTH DALLAS FORTY (1979): Two vintage late 1970's sports flicks, representing ice hockey and football—gritty, insightful and completely hilarious!
THE LAVENDER HILL MOB (1951)/THE LADYKILLERS (1955): Alec Guinness, 'nuff said!